The torroTIMBER® construction manual is the basis for all construction versions. No liability will be assumed for deviations from the construction manual or if non-original torroTIMBER® articles are used.
Only use the post measuring 2.20 m in length when assembling by means of screwing; higher structures do not correspond with the static requirements. In principle, all holes must be pre-drilled 0.5 mm smaller than the screw diameter. Countersink the drill holes for the transom connectors in order to ensure complete contact. Observe a drill hole edge distance of at least 10 mm. When assembling the posts and transoms, please observe the 12 mm clearance so that the construction is able to expand without force if necessary.
The full engagement of the transom connectors when performing the final assembly ensures complete stability. Assembly and production-related dimension tolerances regarding length, width and thickness are to be taken into account during assembly.
All dimensions must be examined on site.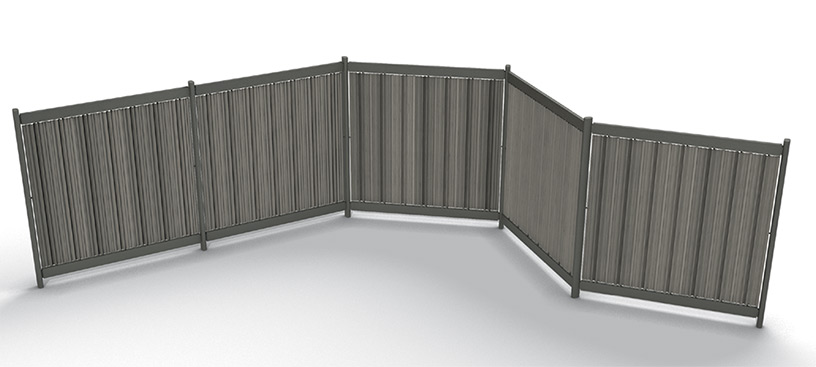 Angle structure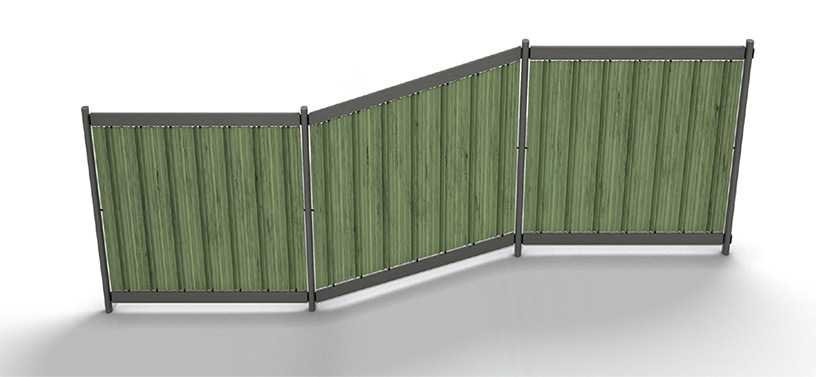 Adaptation to the slope
The Blickfang can be assembled in various ways. Height differences in the terrain can be easily tackled with diagonal sections or the flexible stainless steel bar. The fence sections can be positioned at any desired angle thanks to the individual fastening option of the connector to the oval post. The Blickfang system sizes can be installed on inclines measuring up to 3%. Please use the special lengths for structures with an incline equal to or greater than 3% or the fence set with stainless steel bars for inclines of up to 10%.
---
Cemented assembly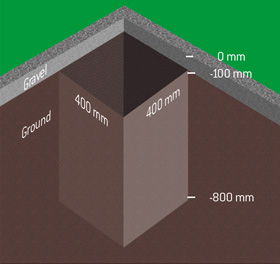 Dig all of the foundation holes. (40 x 40 x 80 cm)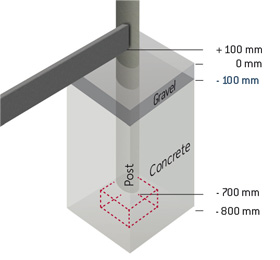 Fill the foundation hole with concrete to a depth of 10 cm. Position the frame in the foundation hole at a depth of -70 cm. Precisely apply the lower edge of the post with the aid of a small brick. Apply concrete into the foundation hole to a level of -10 cm. All posts must be vertically aligned.
---
Assembly on base plate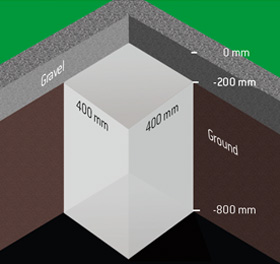 A separate, suitable foundation is required. For this purpose, dig all of the foundation holes (40 x 40 x 80 cm) and fill with concrete to a height of between -80 cm and -20 cm. Allow to fully harden. Alternatively, a suitable anchoring system can be installed on-site.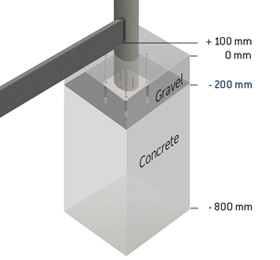 Pre-drill the holes on the post for the base plate (7.5 x 85 mm). Screw the base plate to the oval post (3 M8 x 80 mm). Fasten the base plate complete with post to the foundation using a suitable anchoring system. All posts must be vertically aligned.